Lately, I've been following some really good blogs from founders like Dan Norris (WPCurve) and Alex Turnbull (Groove). It's hard not to follow along and want to join in on the fun. Every founder has a unique story and, of course, each product they create is a little different. I've been working on MyMediaRoom since 2006 (that's right, 2006 as in 10 years ago). Whatever anyone has ever said about nothing being an overnight success is right. Here's the beginning of our startup journey.
April 2006, I pulled the trigger and registered mymediaroom.com.

…a lot of things happened, and…

May 2016, I formally chartered MyMediaRoom Inc.
All the way back in 2000, I started CAVENDO, a web design agency based in Northern Virginia. That business is still going strong (16 1/2 years later!). Well, a few years into that business, I noticed a growing demand for basic content management services. Along came MyMediaRoom. Based out of a necessity to update basic PR content for CAVENDO, I set out to create a simple platform to manage that content. After a few months of coding, we rolled out version 1.0.
2006 Homepage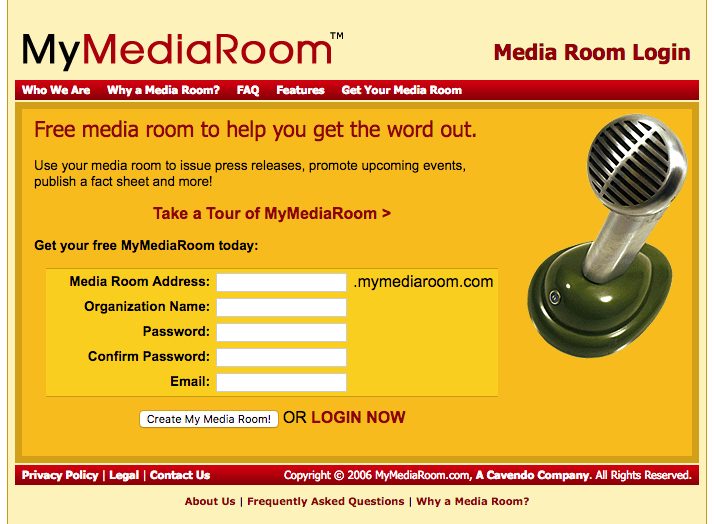 It wasn't pretty. But, it worked. We didn't have a business plan or any concrete plan to do much with MyMediaRoom (yet). So we put up the website and just kept moving along (we were trying to build a web design business after all). We spent the next few years toying with different ideas and iterations for the back-end and media room designs and layouts. We even got our local Chamber of Commerce to agree to let us roll out a pilot project with their members (future blog post on this!).
What we ended up with was several thousand users, including a couple of bigger enterprise customizations, and some minimal traction. What we didn't have was any idea where to go from there. The PR software space wasn't too hot (this was the era of PR Web and the big wire services). SaaS wasn't really a big thing yet. We just floated along.
2010 Homepage
We figured the best way to start getting more traction was to put a fresh face on MyMediaRoom. The "fresh face" included complete overkill. We weren't thinking like our users. We thought we knew it all and that we had to explain everything on our homepage. Our "traction" consisted of reaching out to a lot of our existing users (we had amassed close to 5,000 of them). We had some inkling of a pricing model, but we mostly were just selling to our existing web design clients. This trend continued for several years like a rudderless ship. More floating along. By this point, we continued to serve some enterprise installations (custom distribution models we're hoping to expand on), and we have a lot of our web design clients using MyMediaRoom.
In this phase, we were doing just about everything wrong. But we weren't giving up.
2016 Homepage (and New Brand!)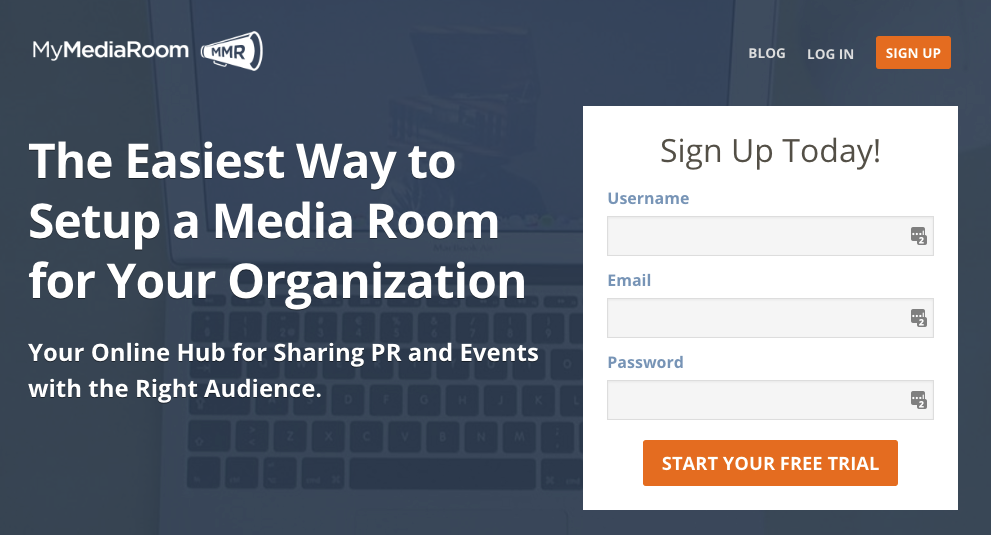 SaaS has settled in as a viable business model and PR, in particular, is prime for disruption. Armed with a completely fresh brand and renewed focus, our journey has entered a fresh new chapter. Our new brand went live and we have spent a considerable amount of time fine-tuning our front and back-end.
What's Next for our Startup Journey
We have some new challenges. In the spirit of supporting the SaaS community, we are going to start sharing some of our successes and failures. Some of the challenges we are working on today include:
Simplifying our brand messaging. Our product isn't something people inherently think of (or search for). At our core, we are making it easier for organizations to connect with their audiences. PR just happens to be the mechanism for doing so.
Becoming a better resource for our users. PR can be a challenge for small business, especially finding the right things to say and to keep up with updates. It's our job to make these efforts easier for our users.
Encouraging more active users. By being a better resource we feel our users will become more active in their PR efforts and find it easier to keep up with their efforts.
In addition to working on these new challenges, we are going to document our startup journey here. Follow along and be sure to subscribe to our newsletter.
About the Author
Jonathan Arehart is the Founder of MyMediaRoom (PR made easy for small business and non-profits) and CAVENDO (Web design agency based in Northern Virginia).