You've decided you want to setup a press room (or media room, if you prefer). Now, what? There is no shortage of great articles that show you what goes in a press room, but how do you actually put it all together? Here is our guide with best practices for setting up a press room the media wants to see. There are a number of great tools for actually setting up your press room (of course we'd love you to give us a shot). The key is to segment your press content from your sales content on your main website.
Your website sells your organization to your clients.

Your media room (or press room) sells your organization to the media.
Some websites have a completely separate press room (e.g., media.smithcompany.com) while some just have a small section on their website (e.g. "Press" or "Media" tab). Whichever approach you take, make it simple and obvious how a reporter or journalist can find your media room content. The press doesn't want to get your "10% off" pop-up or give you their email address to download their eBook. They want to get to your media room as quickly as possible and get on with their day.
Clearly Organized
The key to a press room is clearly organized information. It's best to avoid drop down menus (they aren't mobile friendly, which we'll get to later). Links should be clear and obvious as to what they are for. If you have a section for press releases, call it "Press Releases." Have an events calendar? Call it "Events." As with any other website you want the menu to be consistent no matter where a visitor is on your press room website.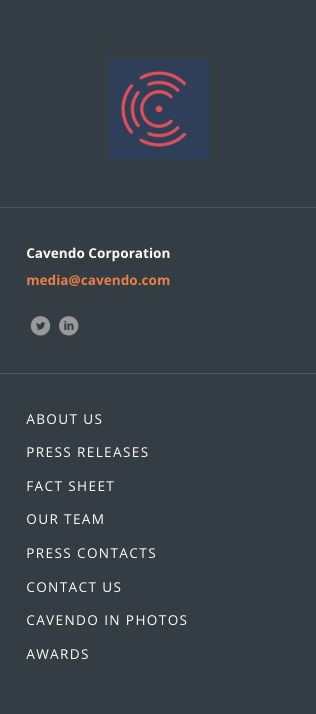 Mobile Friendly (aka, Responsive)
In 2016 it's a given that any website should be responsive. Given that most websites see anywhere from 25% to 50% of all traffic coming from mobile devices, it's imperative that the press can access your media room on the go. If your media room isn't responsive you're guaranteed to lose visitors and opportunities.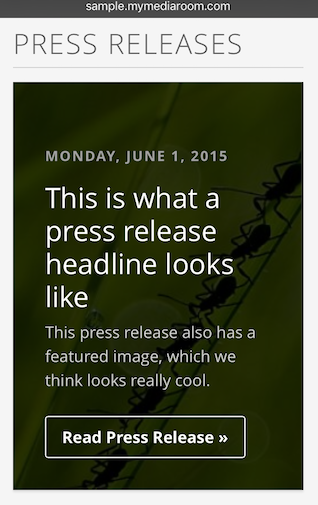 Contact Information Easily Available
As we saw in the example above, your contact information should be easily available. That could mean publishing your media relations email address right on your website. You could also list your PR contact on every page. A best practice is to have a "Press Contacts" page that clearly shows your PR contacts and their contact information. Here is an example of PR contact information laid out in a very clear format that is easily available on the "Press Contacts" page of a media room.

Keep Content Inside Your Media Room
The last thing you want to do is setup a great media room only to link out to your press releases on completely different platforms. For example, your press releases shouldn't be PDFs. Press releases also shouldn't be hosted with your email newsletter service. Every website and provider has its purpose. Email newsletter services allow you to send newsletters to your contact list. Your sales promotions belong on your sales website. Your press releases and articles belong in your media room.
Just The Facts
In addition to sharing your latest press releases, articles, etc., it's important to present a basic fact sheet. A great article on Entrepreneur.com lists some great examples of what goes in a good fact sheet such as:
When your company was founded
Who the founders are
Key statistics
Where your company operates
Basic product/service information
Multimedia Photos & Videos
Another given in 2016 is that your media room should include photos, videos and any other multimedia content you have to provide. Headshots, office photos, infographics, and other media content should be readily available and linked from your media room.
Share & Track
Think of your media room as your PR hub. All of your media content lives in the media room website and anytime you share PR content it should link back to its source. This allows you to much more easily track the success of your PR efforts. You could simply setup Google Analytics or another analytics service, but keeping all of your media room content in once place allows you to track your results a lot easier. Here is an example of some basic statistics for a media room: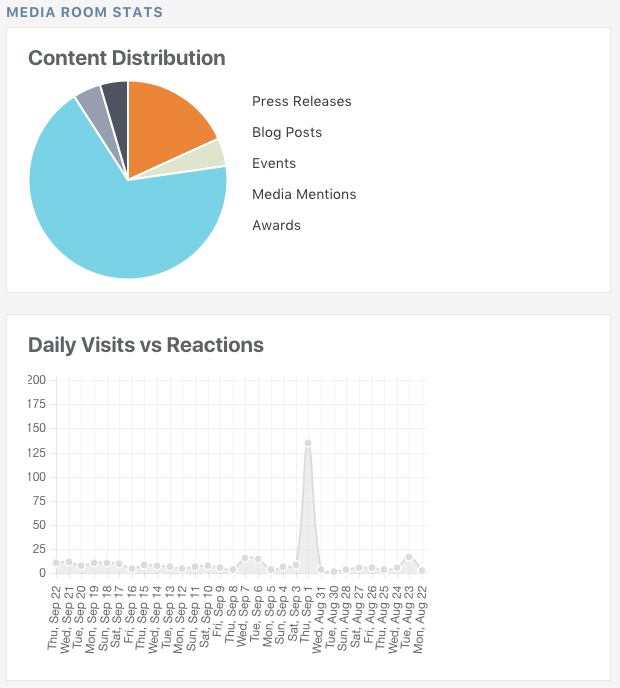 Now You Can Setup a Press Room
Armed with some of our best practices you can begin the process to setup a press room for your organization. We are always looking for your tips and feedback. Do you have other content you'd like to see in a press room? Let us know in the comments and good luck!